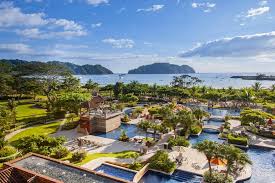 You may be looking for a vacation home, but you are not quite sure of the best place to start. Due to the sheer number of options out there, it is only natural to become a bit overwhelmed. The good news is that if you want to find the perfect holiday getaway, there are countless options available for Los Suenos vacation rentals. The more you can plan, the easier it will be to find the right location for you and your guests so that you can enjoy your time in Costa Rica.
Begin Your Search
Avoid stress and added costs by taking the time to search for the best vacation rentals as early as possible. You can learn more about the peak season and determine if you would like to visit at this time or wait until the flow of fellow vacationers has died down a bit.
Read Reviews 
When you are looking at vacation rentals in Costa Rica, you will indeed find a long list of companies that you could potentially work with. This is an excellent time to consult review websites and read through testimonials of other vacation rental owners so that you know what to expect from each one and what they experienced. 
Inquire About Housekeeping 
Many people tend to forget about cleaning. Some rentals will have cleaning included while others will consider cleaning to be an extra cost. You should find out what the schedule is for housekeeping in advance, so you understand the potential costs and who is responsible for it. 
Where Is The Best Place To Rent A Beach House? 
With countless beaches all over the globe, you may be wondering how you can pick the best beach houses to rent due to all of the options. The truth of the matter is that lots of people are finding out that the Los Suenos area boasts some of the best locations for renting out a beach house. All you have to do is take a look at your budget and all of the benefits that one of these vacation rentals have to offer. 
Where Can I Rent My House For Vacation? 
There are a lot of different options that you can choose from when you are looking at a house that you can rent for vacation. Whether you will be vacationing for a few days, a week, several weeks or a month, Los Suenos vacation rentals offer you the flexibility you are looking for. Renting such a home in the Los Suenos area is a great way to make sure that you can tailor your vacation to your unique needs. 
We invite you to contact us at Stay In Costa Rica so that we can talk with you about all of your options for Los Suenos vacation rentals. We have a wide selection of luxury houses, condos, and vacation rentals throughout Costa Rica that you can choose from to enjoy an enjoyable experience abroad. We would like to talk with you about your budget and what you consider to be the perfect vacation so that we can put together a vacation rental plan for you.
Los Suenos Vacation Rentals
Stay in Costa Rica
8664395922
50 meters before Los Sueños Resort Entrance, Herradura, Puntarenas, Costa Rica
View Larger Map