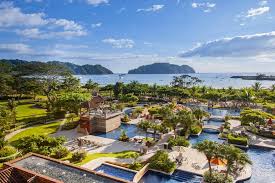 In the past decade, there has been a burgeoning vacation destination making a huge splash in terms of luxury vacations. Los Suenos, Costa Rica has become a priority destination for those seeking beautiful scenery, luxurious amenities, and top-of-the-line resorts.
Sitting just off the Central Pacific coast, it is hard to find a place on the resort that does not feature a spectacular ocean view. That alone would typically be enough, but there is so much more to be seen, and we will walk you through what the resort options are.
What homes are available in Los Suenos, Costa Rica?
The Los Suenos resort is arguably the finest in Costa Rica, if not one of the finest up-and-coming resorts in the world. The resort and marina are located on the Herradura Bay, featuring 1,100 acres of oceanfront resort. Additionally, it is only a few minutes from Jaco Beach and all of the adventures that make Costa Rica a spectacular resort destination.
There are several items that make Los Suenos a destination:
The Beach Club. A $3 million luxurious space, it features a free form pool and Jacuzzi along with a swim-up bar and white sand beach with shade palapas and views of the Los Suenos marina and Herruda Bay that cannot be matched.
The marina itself. Boaters will have a hard time finding a more acclaimed and luxurious marina than the one located in Herradura Bay. There is a ton of marine life available in the area, and Costa Rica features some of the best sportfishing available.
The Marina Village. This 40,000 square foot space has restaurants, bars, an internet café, boutiques, banking and so much more to make it feel like a luxurious shopping experience just a hop, skip and a jump away from where you are staying.
What are the primary real estate firms in Los Suenos, Costa Rica?
If you are looking for more than a resort stay in Los Suenos, there has never been a better time to get in on the real estate market in the Costa Rican resort town. The market is climbing as more and more patrons are embarking on the town every year, partaking in the beautiful scenery and relaxing endeavors that await every person staying at the resorts.
But if you are looking to live in Los Suenos or simply own a vacation home of your own, checking out Palms Realty would be the way to go. They specialize in real estate on the Los Suenos Resort and Marina, which sits just off the Central Pacific coast. It features exclusive real estate with amenities that cannot be matched. Not only that, but it is anchored by one of the largest marinas in Central America. And if that weren't enough, there is the Marriott Hotel and Resort as well as a championship golf course.
Getting in on the luxurious atmosphere and prime amenities would be enough reason for almost anyone to invest in the burgeoning real estate scene. Contact Palms Realty today to find out more.
Los Suenos Homes
Stay in Costa Rica
8664395922
50 meters before Los Sueños Resort Entrance, Herradura, Puntarenas, Costa Rica
View Larger Map