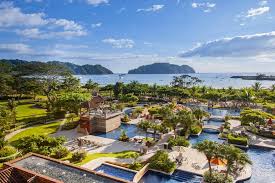 Los Sueños, Costa Rica never ceases to amaze first-time travelers with its wealth of attractions. Literally, there is something to do for every member of the family. From world-class golf to the world's best sports fishing; from pristine Pacific Ocean beaches to a vibrant island nightlife; Los Sueños, Costa Rica has it all!
WHY DO PEOPLE LOVE STAY IN COSTA RICA IN LOS SUENOS?
Los Sueños is widely considered to be the finest resort in Costa Rica. With its abundance of wildlife, tropical rainforests, and ice blue waters, and non-stop action, Los Sueños such a popular tourist destination. Stay in Costa Rica is proud to offer luxurious accommodations in this magnificent resort from 24/7 concierge service to in-house chef cooking.
Our goal is to provide each guest with the ultimate vacation experience. Stay in Costa Rica boasts the largest and most exclusive portfolio of Los Sueños rental properties. We combine the space and luxury of a magnificent private residence with the services you would expect from a high-end hotel.
WHAT TO EXPECT AT STAY IN COSTA RICA

Rental Homes and Condominiums
Private homes provide enough room for business meetings, dinners, and cocktail parties. At Stay in Costa Rica, every rental unit includes daily maid service, a welcome package, and a beach club pass. Luxury amenities give Los Sueños in Costa Rica comfort, style, and character that is simply unrivaled.
Here, you can choose from 1-3 bedroom condominiums and 3-7 bedroom luxurious homes. We can also combine condominiums and homes to accommodate groups of up to 300 people.
The Estate of Stay in Costa Rica
Los Sueños in Costa Rica is a 1,100-acre oceanfront resort with luxury accommodations built to the highest international standards and displays a breathtaking golf course, ocean beaches, and rainforest vistas. Marina Village is where you can find prime retail space, such as bars, boutiques, banking, restaurants, and other services.
Golf-Lovers
If you love golf, Los Sueños has a spectacular golf course that plays into the beautiful tropical rainforest with pristine blue waters of the Pacific Ocean as its backdrop.
Thrill Seekers
Los Sueños also provides a zip line tour that allows you to see the rainforest from a birds-eye view as you fly over the top. You'll be able to explore Costa Rica on an ATV provided to our guests at Stay in Costa Rica.
Fishing Enthusiasts
Off-shore action provides marlin up to 600 pounds, sailfish, dolphin, and large tuna. In-shore fishing offers snapper, world-record roosterfish, and snook. All of our captains are highly experienced and bi-lingual.
Los Sueños Marina is just a short run from the blue waters that are known for some of the best sports fishing in the world. Los Sueños Marina is an internationally-acclaimed marina with all the amenities our boaters have come to expect.
MAKE YOUR RESERVATIONS TODAY
As you can see, there is lots to do for every member of the family at Los Sueños, Costa Rica. Make your reservations today, and experience the vacation of a lifetime. Feel free to reach out by email if you have any questions, requests, or special needs.
Los Suenos Costa Rica
Stay in Costa Rica
8664395922
50 meters before Los Sueños Resort Entrance, Herradura, Puntarenas, Costa Rica
View Larger Map