When in Costa Rica, Stay at Los Suenos Villas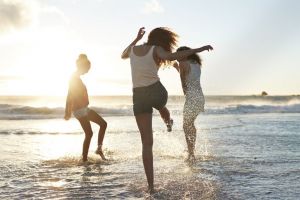 No bigger than the state of West Virginia, Costa Rica packs a lot into a relatively small space. Here one finds all sorts of natural wonders, from sugar-white beaches to majestic volcanoes to verdant jungles rich with birds and flowers.
If you speak Spanish, good for you. It will come in handy during your stay at Los Suenos Villas. Español is not, however, required. You see, Costa Rica has been a haven for American tourists and expats for decades, and English is spoken practically everywhere you go in this friendly Central American country.
Thinking about making a move to Costa Rica? Let Los Suenos Villas be your home-away-from-home while you explore everything this lovely little country has to offer. Try the local cuisine and meet your potential new neighbors all while headquartering at Los Suenos. We're within easy distance of great restaurants and local entertainment that's sure to make your stay in CR enjoyable and fruitful.
Find the 1,100-acre oceanfront Los Suenos Villas resort on the shores of beautiful Herradura Bay. From here, it's only a few minutes to Jaco Beach and all the other exceptional adventures that make Costa Rica so very popular.
We are pleased to present a portfolio of luxury villas you can call home for as long as you like. Be sure to call ahead to reserve your space, especially if you plan an extended stay at Los Suenos Villas. We offer a range of spacious casas that range from three to eight bedrooms while providing ocean views, rain forest vistas, of an enticing view of the golf course. Most of our homes come with daily maid service, while others offer as-you-request housecleaning service.
Each home in our collection includes high-speed Internet, so it's easy to stay in touch with co-workers and family back at home. Rates vary, depending on the season and individual home. Typically, you can expect to pay around $715 to $3,000 per night. Browse our online portfolio to choose which villa is right for you and your guests.
Each property in our collection is fully furnished and comes with a private pool. Stock your kitchen, and you can stay out of the public eye for weeks on end, if that's what you prefer. Or, ask us where the best local eateries are, and you can enjoy fine or funky dining every day of your Los Suenos stay.
Do you love to fish? Again, this is another great opportunity provided in Costa Rica. Whether you wish to drop a line into a lazy local lake, or if you want to board a fast ocean-going fishing vessel, your concierge at Los Suenos Villas can help to make it happen.
When our guests are happy, we're happy. That's why we are pleased to go above and beyond to make your Costa Rica vacation experience everything you dreamed it would be, and more.
Ready to know more about Los Suenos Villas and how easy it is to find paradise? Give us a call at (866)439-5922 anytime. We look forward to hearing from you.
Stay in Costa Rica
8664395922
50 meters before Los Sueños Resort Entrance, Herradura, Puntarenas, Costa Rica